Blake Denver - ELEVEN Months
He is now over 22 lbs....although eating is not that interesting to him...he is diffidently a marathon eater...he gets it done, it just takes FOREVER.
He got his first tooth! We weren't sure if/when this would happen for him ;)
He is wearing size 12 month clothes and size 3 diapers.
He has many new tricks like: waving "hi," clapping your hands and giving high-fives.
He is officially sleeping through the night more often than not..."YEAH!" says mom. Proud of my "big" boy.
He got to watch aunt Kinsey graduate from college...although he slept through most of it in dad's arms.
He celebrated dad's 26th birthday, mom's first mother's day and mom and dad's 5th wedding anniversary this last month.
His favorite toys this month: ANYTHING he can get his hands on...bath-time is his favorite time though...he gets excited when he even hears the water running.
His NEW foods tried this month: kiwi, Ritz crackers, cottage cheese, beef, avocado(didn't like it) and pickles...which he loved...whose kid is this? ;)
He had a friend, Ella, spend two whole days with us. They sure enjoyed playing with each other and "talking" back and forth.
He shakes his head "no" when getting tickled or snuck up on.
He has learned how to go from sitting to crawling...still doing army crawling...he just thinks it is funny when dad puts him up on his knees.
He LOVES his two cats, Calli and Hobbes...he gets really excited, and is working on "gently" petting them when they let him get close enough.
He spent his first 'all-day' time with Grandpa and Grandma Nolz so mom and dad could celebrate their anniversary...he had so much fun with them.
He went on his first vacation to Sisters, Oregon with just mom and dad...it was such an awesome and relaxing trip for everyone.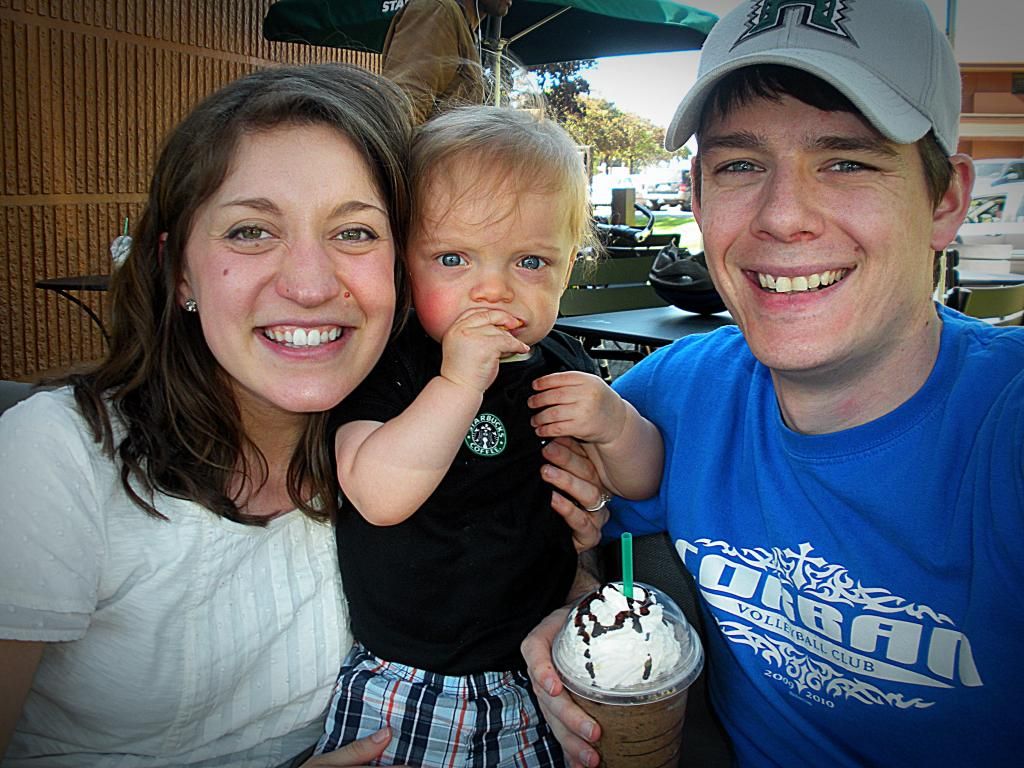 Our little family :)
Blake in a Box #2